General Information about a Gastroscopy
---
Thank you for considering to have a Gastroscopy with us. We feel it is very important for you to take the time to read the following document carefully, and if you have any unresolved issues following completion of this document, please bring these up with your doctor or Dr Lynch prior to the procedure.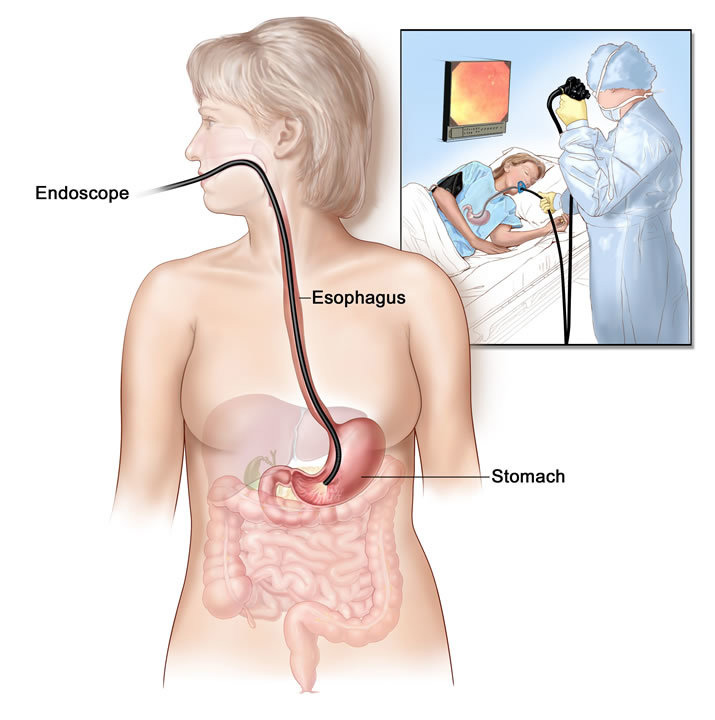 What is a Gastroscopy?
Upper GI Endoscopy is a visual examination of the oesophagus, stomach and duodenum. A flexible endoscope is passed through the mouth into the stomach and first half of the duodenum. An image is then projected onto the screen to allow any abnormalities to be visualized. Small tissue samples may be taken (biopsies) for analysis. Polyps and other abnormalities may be removed using an electric snare wire.
You will be given a sedation by injection to send you to sleep. The examination usually takes 15-20 minutes. You should allow 4 -5 hours for your hospital stay.
Risks
Gastroscopy complications are rare with an incidence rate less than 1 in 1000 examinations. Complications may include bleeding and perforation of the gastric mucosa. If polypectomy (removal of tumours) is performed, bleeding may occur from the site of removal.
Anaesthetic Risks
There are a number of anaesthetic risks associated with the procedure which include bruising or infection at the cannula site, allergic reactions, aspiration of vomit, heart attacks or strokes. Extremely rarely death can result from the anaesthetic. If you have any questions with regards to the above anaesthetic risks, please feel free to discuss these with the anaesthetist prior to the procedure. Clearly however in general terms the anaesthetic is safe and well tolerated.
What can I expect after Gastroscopy?
Following the procedure you will go to the recovery area where initially you will be placed on the bed, and this will be followed by being seated. You will gradually recover during this period of time and will subsequently be discharged when the nursing staff feel that your recovery is adequate. You will need to have an adult accompaying you home. Following discharge you will be able to eat normally and take your regular medications unless otherwise specified. As a result of the anaesthetic agents that you have had, for 12 hours following the procedure you must not drive a vehicle, operate heavy machinery or sign legal documents or place yourself in any hazardous situation. Basically plan to take it easy and relax for the rest of the day.
You may be asked to see Dr. Lynch again in consultation, and this will generally be arranged prior to your discharge. Other investigations may also be ordered. Your referring doctor will receive a letter of correspondence relating to the procedure, and you should make an appointment to see your referring doctor within a week of the procedure unless otherwise specified.
If you experience pain or see any evidence of bleeding or dark stools following your gastroscopy you should contact Dr. Lynch on 07 5599 2295 or the Tweed Day Surgery on 07 5599 5522 immediately.
After hours please contact your nearest hospital or medical service.
Thank you again for considering to have your gastroscopy with us. We hope that the above information has been adequate in explaining the procedure. If however you have further queries, please feel free to discuss these with Dr. Lynch, your local doctor or the staff prior to the procedure.